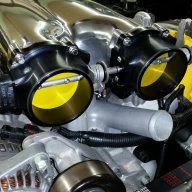 Legacy/Supporting Vendor
Supporting Vendor
Joined

Feb 14, 2002
Posts

5,692
Reaction score

47
Location
Thanks for the help guys, I got a power steering tester, without the flow meter though, and the pictures help to confirm that's the location to put it but unfortunately I didn't have the time to hook it up and I'm jumping on a flight at 5 am. Really appreciate the help

I'll update this in a week, but symptoms seem to be pointing at stuck relief, and looking at the location of the relief valve and seems to be hard to get at. Shot in the dark is its easier to pull the fan than it is to pull the reliefs while the fans in the car? Probably keeps things cleaner too?
The relief valve that would be the problem would be the one in the pump, not the fan more than likely. The relief valve in the fan is a bias valve to give priority to the rack when needed, and seeing as neither work properly... I am leaning pump.
That said, you need to see if you are flowing out of the pump in any quantity or not, and if so, where the return flow is coming from.
This is a weird one, but without any history of the components it's a total toss up.