Welcome to the Viper Club of America!
---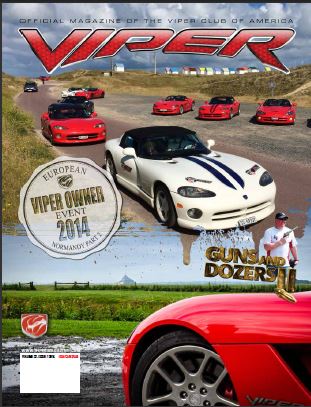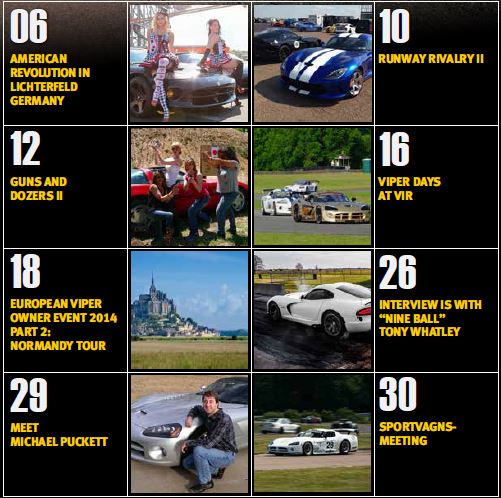 Renew or join Viper Club of America at viperclub.org and receive your copy as part of your annual Membership.
Want to read more?
Please purchase a Back Issue or Subscription at vipermagazine.com.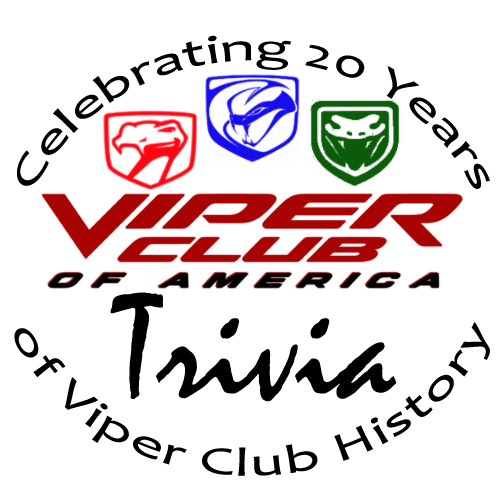 ITS ON!

Come join your fellow Viper Club of America members for some Viper Trivia


Simple.....login on the Forums Page Here!

Once you are logged in, go to the Members Only section and the Viper Trivia thread is under the VCA Members Only heading.

If you have not already signed up with a Forums Username, you will need to Create one. This is a different registration than your membership. Please look for the REGISTER button on the right-hand side of the landing page, toward the top. Just follow the pop up box prompts and you will be good to go.

If you have a Username but have not been on the Forums Page in a while, you may need to follow the prompts to have your password reset. Click on the HERE at the end of the first sentence of the pop up box. It will generate a reset and an email will be sent back to you.

Or, if you have any questions or issues with the login, password, or registration process, please give CJ a call at 800-677-4321 and she can assist you.

A prize will be awarded each time you reach THREE Correct Answers. They are as follows:


Tier One:
> 1st - 2 Back Issues of Viper Magazine of your choice
> 2nd - 3 Back Issues of Viper Magazine or 2 Posters of your choice
> 3rd - 3 Posters of your choice
> 4th - Viper Club of America Windshield Decal
> 5th - Viper Brochure of your choice
> 6th - Viper Magazine T-shirt
Tier Two:
> 1st - VOI Coffee Mug or Sunglasses & Case
> 2nd - VOI Canvas Bag
> 3rd - VOI Leather Notebook
> 4th - VOI Collared Die Sub Shirt
> 5th - VOI Commemorative (3) Coin Set
Tier Three:
> 1st - Diecast Johnny Lightening Matchbox Car
> 2nd - VCA Pen & Letter Opener Set
> 3rd - VCA T-shirt of your choice
> 4th - Chrysler Driveopoly Board Game
Prizes are subject to stock on hand and we reserve the right to substitute a like item if necessary.
So, what are you waiting for? Log in today and play!!
TENNESSEE/No. CAROLINA: Thomas Curtner, Volunteer from TN!
Thomas originally joined VCA in 2009 and has Volunteered to plan a Tail of the Dragon Event for VCA this year. If you are interested in participating, please Email me HERE. We need to get an idea of how many Vipers would like to take this ride, and when you think would be the best time - spring or fall. There is a thread on the Forums Page as well, where you can look for more details. We are so thrilled to have Thomas on board with VCA - thank you, Thomas!
NEW JERSEY/NEW YORK: Bobby Cerchione , President of VCA's New Jersey Region!
We want to extend a heartfelt and enthusiastic Welcome Back to Bobby Cerchione for taking the reins again in New Jersey - for some Viper Fun! Many of you know Bobby by his million dollar smile, outgoing personality, laid back attitude; and, of course, he is a Viper Fanatic! Bobby is loved by SO many, thank you for taking a moment to email bobby.cerchione@apexxpress.com and let him how glad you are to have him back with Viper Club of America!
Here is a short biography, written by Bobby:
Good Morning Team VCA! I am ready to roll!
I am President of Apex Xpress, Inc., and a partner at Xpedited Services LLC and Pexa Logistics LLC; but, my most important job is being dedicated Dad to Bobby and Joey.
I have been a VCA member since 2001 and have a deep passion for this car and Viper Club of America, mostly for the people I have met because of this great club! I am the former NJ VCA President, as well as the former National VCA Secretary for two terms. I have decided to jump back into a leadership role with VCA because its been a very big part of my life.
Viper Club of America is a club of distinction, credibility and great fun! It has become the underdog because of perception, not reality! I am here to work with the National Officers and Regional Presidents and Directors, to help clear up that perception and gain your trust. VCA is about the members, not the agendas of the Officers. We all volunteer for you and for our love of the car and club!
You came for the car and stayed for the people has always been our motto! Lets not forget what its really about! So, see you at a NJ VCA and/or National event real soon!
Bobby Cerchione
WE HAVE A NEW REGION!
Viper Club of America is so excited to announce the addition of a new VCA Local Region: The GULF STATES REGION, headed up by an awesome and enthusiastic member - Lisa Rachall.
Lisa, some of you might know her as Broomrider, joined VCA in 2015. Since then, she has been active on the forums and has participated in several events in the No. Texas area; but, she wanted to do more. So, she volunteered to head up the area for Louisiana, Alabama, Arkansas, Oklahoma, and parts of Texas.
Even at just a few weeks into the 2016 year, Lisa has been throwing out some great ideas to get this club moving. She and her husband have the time and ability to be able to organize and participate in VIPER Drives, Pick-Ups and Special Events. And, Lisa is ready to roll.
So, if you live in the Gulf States Region, keep on the look-out for Lisa. She is determined to meet you face-to-face, one way or another. I know y'all are going to have some fun this year!
Welcome Lisa, and Welcome Gulf States Region!
WELCOME TO THE NEW VCA REGION
VIPER CLUB OF AMERICA SWEDEN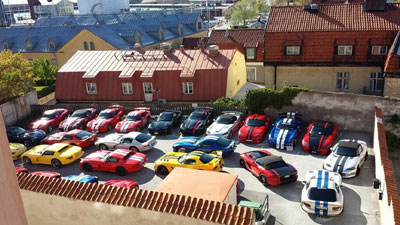 On behalf of all VCA Members, we would like to welcome the newest Region to Viper Club of America, and to the Viper Nation: Viper Club of America Sweden.
In September 2015, the first 20 members from the VC Nordic decided to join VCA as a new region with the name: Viper Club of America Sweden. Jan Falk is their Regional President.
The Viper Club Nordic was founded in 2002 and currently has about 100 members. This group of Viper owners is very active and has a great club life, organizing at least two main events every year.
There is an annual Spring Meet, where they always have a track day, a poker run day or similar, and a big dinner party in between!!! This year they were on the Island of Gotland and raced on the Gotland Ring. About 45 Vipers were tearing up the streets and track all weekend long! You can read about it in the new Viper Magazine.
Then this past July, they all met at Jan's house again for another Viper Meet. One of their members was racing his Competition Coupe at the local Track called "Knutstorp Ring". All of the members drove their Vipers to the track to support their friend. He showed his gratitude by winning the race! ... And again, they had a party in Jan's back yard to celebrate the event, of course!!
They also have a traditional meet coming up here in September, in Mora, Sweden, at another Club Members' house. The motto of this meeting is Drag Racing Hard and ... yes, you guessed it! ...they will party again!
Next year Jan will be the host to the spring meet in May, where the club hopes to gather the largest amount of Vipers in Europe ever! Jan said, "Together with Fredi, I will make sure the Viper community has all of the info in due time. It's currently planned to be at Knutstorp Ring which is located in beautiful Skåne, South of Sweden."
I know we Viper Owners in Europa are looking forward to meeting the members from the new Club, either somewhere in Europe, in the fall 2016 at the next USA VOI, or on the Knutstorp Ring. So, welcome VCA Sweden! We are glad that you are here!
Latest threads in the forums!